Leaders in Safety with Over 20 Years of Quality Service
BH Concrete Removal was established in 2000 and over the past 20 plus years we have built our business on honesty, integrity, and accountability. With those values we have built a loyal customer base which now extends to all Western Canada, with future plans to expand into Eastern Canada with those same great values and service.
BH Concrete specializes in the removal of hardened concrete from mixer drums and we are committed to providing you with the highest level of service so you will always choose us for your chipping needs.
We are a Proud Member of Concrete BC and a Fully compliant Member of Avetta, Browz and Contractor Check.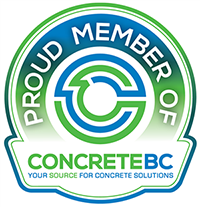 Safe, fast, effective, convenient. BH Concrete Removal has fully trained, certified staff and the paperwork to boot. Being able to get the whole fleet cleaned in just a couple days has been a game changer for our operation. Call Ken to keep your guys out of the drum and in the driver seat where they belong!
We will respond as soon as possible
Request a Free Quote
Phone: 604-612-7933
Email: bhconcreteremoval@gmail.com